In our 5 questions series we talk to our Pint of Science Country Directors. Today we meet Guillaume Corradino and Céline Ballieux who started Pint of Science Belgium in 2018.
1. What's your background, who are you?
Guillaume : Hi, I'm Guillaume. I have a background in European policy studies and about a decade of work experience supporting EU funded research and innovation projects, with a focus on environmental issues, from energy efficient buildings to pesticide free farming.
Céline: Maybe I am a cake floating on top of Olympus Mons, observing quietly the landscape. In life, I am fond of nature, baking and... science! My thing is everything beyond earth limit, I am space very enthusiast. Professionally, I am a photographer, graphic designer also working in communication.
2. How did you hear about Pint of Science and what made you decide that you needed to bring this to your country / run this nationally?
Guillaume : I first heard about the festival from a Spanish project partner with whom I was working as part of an EU funded smart cities project. The story is that I was trying to invite him to some project related meeting, but he declined, pretexting "a very good reason". The reason turned out to be his participation as speaker to a Pint of Science event in Spain, which was definitely better than whatever it was I was proposing. Long story short, he pitched Pint of Science to me, was surprised it did not exist in Belgium yet, and encouraged me to launch it in the country. This is how I ended up offering my time to the international team. The following year, I was paired with Belgium co-Director Céline to launch Pint of Science Belgium
Céline: I first heard about it on social media, I think. I followed from far away events happening in the UK and in France and I was frustrated that I couldn't attend to the same ones in Belgium. After all, we are the land of beers, so it was our sacred duty (I talk about Guillaume and I, of course) to pour some Pint of Science magic around our pubs!
3. What has been the biggest challenge you've faced in Pint of Science?
Guillaume: The biggest challenge has been to build and maintain a solid team of volunteers with very little resources.
Céline: Maybe simply the first one: bringing the first edition to life! Starting from scratch and, within a few months, manage to gather people and money to make it happen. But it was a barrel of fun too.
4. Tell us about a Pint of Science event or experience that really moved you and why?
Guillaume: The first festival was no doubt a very special moment. In about 5 months, Céline and I worked very hard to make the first Belgian edition a success despite working with zero budget and starting with zero volunteers. When I attended my first event after these months of intense work, I found myself to have nothing to do: the team was in full control of the event, and participants were having a good time. It had taken a life of its own, and this is when things became really… real!
Céline: Last year Pint of Science Valentine's day! We organized this science speed dating, one good example of creating an event we would love to attend to and do it the way we want to do it. In the end, it was a tiny mess because it involved a lot of movement between people and it was our first try of the concept. But seeing all those scientists and mortal people mingling, laughing and playing the speed dating game... It was really rewarding and it reminded me why I'm in the adventure.
5. What's your favourite science subject and which drink would you pair it with?
Guillaume: Anything related to space exploration gets me excited like a kid in a candy store. Pairs well with the special "Taste of Science" beer we produced in 2019 with the No Science nano-brewery.
Céline: I said that I was a space person, but one other thing that makes me passionate is what's happening under our skull. Give me a talk about consciousness and put in my hand one of our Pint of Science Belgium brew "A taste of science" and I would be a happy panda.
Bonus question: what do you do in your free time?
Guillaume: Free time? Pint of Science is what I do in my free time! Is there more time that I don't know about?
Céline: Well... At the end of the day, a lot of my work and Pint of Science duties involved being seated with a computer as your faithful friend and companion. So I hike, climb and bake whenever I can!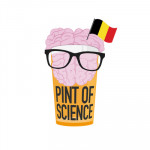 Pint of Science Belgium can be found at pintofscience.be