In our 5 questions series we talk to our the people who run Pint of Science in different countries. Today we meet Dr Laurent Ladépêche who directs Pint of Science Spain along with Rafael Martínez Ramón.
1. What's your background, who are you?
I'm French and a neuroscientist, not always in that order of priority! I did my PhD in Bordeaux, the region where I'm from, during which I studied molecular aspects of brain cell activity and its regulation using high resolution imaging. I then moved to Barcelona six years ago to work as a postdoctoral researcher. There I've been pushing further my specialisation on advanced microscopy techniques to investigate the mechanisms of a family of neuropsychiatric disorders called autoimmune encephalitis.
Curious by nature, I enjoyed a lot discovering the Catalan and Spanish cultures that co-habit in Barcelona, though my friends would probably point out a certain focus on the exploration of the delicious local (and less local) food one can find here. If you're looking for a nice place to have dinner in Barcelona, just ask! I also love spending time with friends and making new ones, especially if there is a chance to talk about science around a pint!
2. How did you hear about Pint of Science and what made you decide that you needed to bring this to your country / run this nationally?
I actually learned about Pint of Science quite early on, following the first edition of the festival in UK, thanks to Lucie Bard, a colleague from my PhD lab. She had finished her PhD just when I started mine and had moved to London where she got to know some of the organisers. Next time we met she mentioned the festival and suggested it would be great to get it started in Bordeaux. Unfortunately at that time I was finishing up my PhD and couldn't make the time to get the project started before I moved on to Barcelona. As Lucie did with me, I simply passed down the idea to a couple of friends who were staying on in the Bordeaux lab, and managed to convince them (ok, it wasn't that hard) to take over the project and get it started. I'm very happy to see they have been running successful events in Bordeaux ever since!
When I arrived in Barcelona, the festival didn't exist in Spain, so I decided to contact the first Spain festival directors to see whether other people were interested in moving things in Spain. Back then, Praveen [Co-founder] put me in touch with Ines Garmendia and Gaspar Sanchez, from Vittoria (Basque Country), who were already putting together and coordinating the contacts from various cities. And just like that I became coordinator in Barcelona, together with Xenia Villalobos who also showed interest at the same time.
At the national level, Jorge Bueno (Madrid) took over the Spanish direction after Ines and Gaspar. When he decided to leave the direction, with the festival growing in size every year, we thought that having more people sharing the task would make it easier to manage. With that in mind, Xenia and myself accepted the challenge of sharing that function, together with our beloved Rafael Martinez, building on our respective experience as local organisers to organise the 2019 edition as well as 2020 if it had been possible. We simply try to keep up with the good work initiated by our predecessors and adjust to the changes in size, optimising the organisation where it's possible and trying to implement the good ideas the volunteers come up with (e.g. having sign language live translation in some cities). We are really lucky and grateful to have such a motivated group of volunteers both at the national level and in the local teams!
3. What has been the biggest challenge you've faced in Pint of Science?
As an organiser, the challenge was first to know where to start in a country where people are used to go to bars to meet friends and family, but not so much to discuss science. There were already many successful science communication initiatives of various formats, though mostly in science and culture connoted spaces (e.g. museums and auditoriums) and localised in cities and regions that concentrated research institutions the most, and could support those activities. Thus finding ways to bring the festival to new, more remote areas and reach out to that new audience and attract it to the bars to listen to and discuss science, proved a continuous challenge we still have to tackle every year. However, thanks to the fantastic team of volunteers from all the cities, big and small, we managed to make the festival a successful and well visible event, to the point that people are now expecting it every year. We always get very positive feedback from the public and that's extremely stimulating to keep going.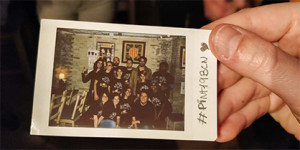 Yet another challenge arises directly from the success of the festival. Indeed from 8 cities and 100 speakers in 2015, we reached 73 cities and nearly 800 speakers in 2019. Although that growth is a very encouraging sign that the festival is well appreciated and motivates more and more people both to organise and attend, it also requires to readjust the way we manage the volunteers, the speakers, as well as the data and the search for sponsors. Being all volunteers, this implies taking the time from our work or personal life to discuss with those of us who know, look for new information, learn and try new ways of doing things, even if it sometimes fails… but after all, isn't that what science is about as well?
But even if it's not easy, taking on these challenges and sharing this experience between all the volunteers is also a strong binding force and what motivates us all to keep organising the festival together!
4. Tell us about a Pint of Science event or experience that really moved you and why?
Being the coordinator means you don't always get to enjoy the festival to its fullest as there always things to keep your eyes on, however you also get to hear about the nice anecdotes and things that happened during the festival. One of those was that we heard from some local coordinators that a couple of friends had told them they had been attending events in three different cities over the three nights of the festival, moving on from one to the other and still making it in time, telling them they really wanted to attend those specific talks! It's actually awesome to find out how some people will actually come from quite far off the cities to attend the events sometimes. That's again another very positive feeling you get when you organise.
5. What's your favourite science subject and which drink would you pair it with?
The mind and everything connected to the nervous system. I have a fascination for the brain and it really feels like a magical organ to me, if you consider how much we don't know about it when compared to the rest of our body. After years working with physicists for my experiments, I kind of feel like I'm having an affair with the field of microscopy. Regardless of the topic though, my drink of choice will be mostly a good Bordeaux red wine, true to my origins.
Bonus question: what do you do in your free time?
As all the volunteers, organising the festival is what I do during my free time! :D Apart from that I enjoy meeting with friends to try new spots for a good dinner, visit some art exhibitions and travel when time allows (and when there is no pandemic to prevent it!).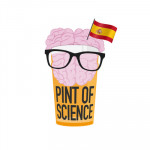 Pint of Science Spain can be found at pintofscience.es