In our 5 questions series we talk to the people who run Pint of Science in different countries. Today we meet Silvia Cardellino who directs Pint of Science Switzerland.
1. What's your background, who are you?
I am a Plant Scientist, now working for a scientific journal.
2. How did you hear about Pint of Science and what made you decide that you needed to bring this to your country / run this nationally?
I discovered Pint of Science when I was in UK, and I fell in love with it! When I moved to Switzerland and found out that the festival didn't exist in this country, I couldn't resist to launching it in here!
3. What has been the biggest challenge you've faced in Pint of Science?
The Pint of Science festival is a big event which requires quite a lot of organisation. As this is run only by volunteers, one of the challenges is finding the time and energy to dedicate the attention that this initiative deserves. I am impressed by the passion and dedication that my friends and colleagues here in Switzerland have demonstrated in the past edition and would like to take the chance to thank them again: thank you guys, you rock!
4. Tell us about a Pint of Science event or experience that really moved you and why?
I remember the first time I went to a Pint of Science event. It was in York (UK), in one of the English-style charming pubs for which this city is famous. Two researchers presented their study on glaciers and then helped us all to make different experiments on a small glacier model. The pub was full of all kinds of people, with a unique mixture of ages, genders, backgrounds and interests, bounded by a common curiosity on the the impact of climate change in glaciers and the science to study it. During the evening we laughed, we asked plenty of questions, we experimented, we learned and we had a lot of fun. I've never seen such a relaxed and yet dynamic atmosphere where scientists and adults with no scientific knowledge could exchange ideas and learn from each other... this is how science should be communicated!
5. What's your favourite science subject and which drink would you pair it with?
I love science related to environment and ecology. I am particularly fascinated by the biological interactions among animals, plants, microbes and the environment. We are all linked in one unique cycle with a delicate equilibrium; the action of one element always causes a reaction of another element in the system..!
Learning more about this while drinking a glass of good robust red wine is an excellent way to spend an evening!
Bonus question: what do you do in your free time?
I love mountains and, whenever I can, I escape from the city to go in the beautiful Swiss Alps for skiing, hiking, mountaineering, climbing, lake-swimming, camping and any other mountain-related activity.
I love arts and music, I sing in a choir and often get involved with other art related activities.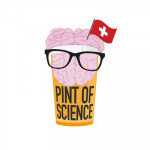 Pint of Science Switzerland can be found at pintofscience.ch