Romina Casadevall
Argentina Director
I have a PhD in Biology and work in the field of biotech-based companies' creation. The biggest technology changes humanity will see in next decades will be more and more related to scientific developments so I think science has to become an everyday topic for everyone!
Luiz Gustavo de Almeida
Brazil Director
I have a Ph.D. in Microbiology and fell in love with science watching Beakman's World. Through Pint of Science, I want to give people the same feelings I had when listening to a scientist, a giant rat and his assistant talking about the wonders of the universe from the science perspective.
Pedro Calderón
Costa Rica Director
All this started when I was a student, then a Master in Chemistry (Electrochemistry applied to forensic sciences) and now a chemistry professor. I am passionate about science, working in the laboratory and obtaining results, but the exchange of knowledge with society is even more exciting.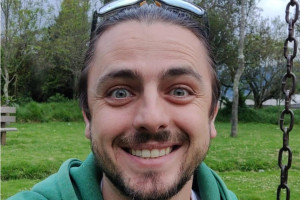 Pierre Cassar
Ecuador director
Biology and Geology teacher from France, living in Quito. Degree obtained in Lyon, France, then worked 5 years in Paris where I first met Pint of Science! I'm opening the festival here for the first time in 2023. Can't wait to see the result in Ecuador. Really think it will be amazing!