A conversation about race and science
"It was my first scientific conference and there were different people from different countries. I was in this group of predominantly white male scientists and one of them was a field scientist. He was talking about the research that he was doing in the Caribbean and during his talk he referred to the locals as 'gorillas'."
Scientist Dr Esther Odekunle uncomfortably, but importantly, shared this personal experience in our special online live event last month which saw her in conversation with British author and journalist Angela Saini about race and science (please note that no replay of the event is available).
In 2019 Angela published the book 'Superior - The Return of Race Science' in which she explores the concept of race from its origins to the present day, and how race science is experiencing a revival in the use of racial categories in genetics and medicine.
It was a subject that Angela had always wanted to write about but said in the interview "I didn't focus on race at the beginning of my career so much because, as I was told repeatedly, that if you start writing about racism as a brown journalist you'll have to do that for the rest of your career".
With the rise of ethnic nationalism, populism in the far right and the alt right phenomenon online, she felt like now was the time to get it all down. "It was such an emotional book for me to write because I was getting all these thoughts and feelings I'd had for decades…I was trying to make sense of it trying to get it all ordered in my head and 'Superior' was so cathartic because it really helped me get it all straight in my head for the first time."
Similarly, Esther said "I had all of these thoughts that I wanted to put out, but similarly I didn't have a platform to do that". In 2020, to have an outlet like social media to express and share her views "felt like a weight lifted off my shoulder to actually speak up and speak on the things that I've been experiencing as a black woman in society."
Ultimately race is a social construct, not a biological one. The concept of race has no scientific or genetic basis, there is no 'black gene' or 'white gene'. "Mainstream science really does debunk the idea of race – and it's not a difficult idea to debunk - if we're talking about the racial categories that we use in everyday life they really are arbitrary and I don't think people realise how arbitrary they are" said Angela.
Not only is race science an issue, but as Esther's experiences showed, racism in science and academia is a problem that we need to acknowledge and change. #BlackInTheIvory on Twitter highlights many first-hand stories of racism in academia.
Black academics encounter funding discrimination and their career opportunities are limited. In the UK out of 21000 professorships, only 140 identify themselves as black (Higher Education Statistics Agency, HESA). Black, Asian and minority ethnic students are shunning postgraduate degrees because they don't feel like they belong in academia.
As Angela pointed out and concluded:
"There are racists at every level of society and this isn't just a matter of education -many of these people in academia and government are very well educated and they have just chosen and committed to this set of beliefs and they ignore everything else.
One of the reasons it lives on is that if you can somehow make the argument that the inequality we see in society is natural and that racial inequality and gender inequality is just how things pan out because there are fundamental differences between us, then you don't have to do anything about it; you could just sit back and say "okay we're not having affirmative action, we're not having diversity policies we're not doing anything because we don't need to", and this I think underlies the politics of all of this scientific racism - a commitment to maintain things as they have been for a very long time to keep certain people in power."
Working towards change
We thank Angela and Esther for their frank and important discussion; their personal experiences gave the audience an emotional connection and left us with plenty to think about and do. They kindly put together a list of recommended books which helps to understand the issues faced.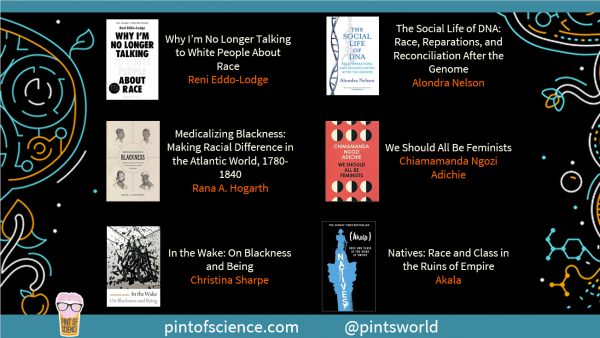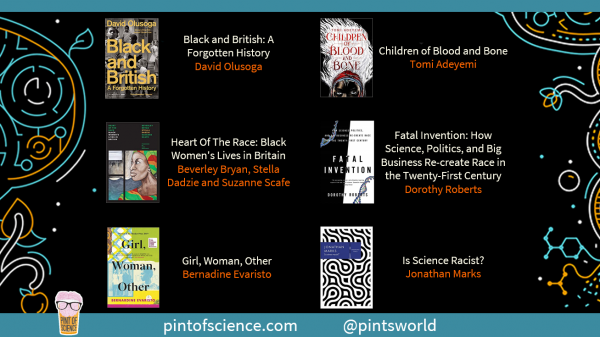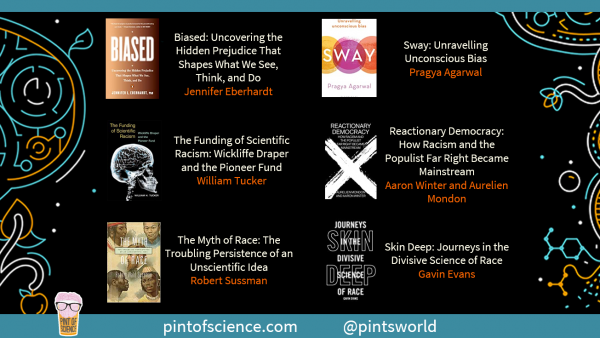 We'd also like to thank the audience for taking an active part in the discussion via the chat boxes and those who donated when booking a ticket to the event. Some of the donations have been given to theconsciouskid.org, an education, research, and policy organisation based in the USA and dedicated to equity and promoting positive racial identity development in youth.
Donations have also been made to Ladders4Action and BAMEWA (BAME Women Academics) who are working together in the UK. Pint of Science will also work with them to continue to support all black and minority ethnic academics, through: mentoring, special conferences and opportunities to present/organise Pint of Science events, and creation of an advice document for Universities & Higher Education Institutions in the UK, because allies in academia often do not know how to act to address inequality or to support their black colleagues.
More about Angela and Esther
You can find out more about Angela Saini, her next events and books she has written on her website. Esther communicate sciences and builds an inclusive STEM community via Twitter @EstOdek and Instagram science.uncovered. She also has a YouTube channel, Dr Esther where she highlights underrepresented people in STEM fields (Science Technology Engineering and Mathematics) and invites STEM professionals to talk about their research and journeys in STEM.