In our 5 questions series we talk to our Pint of Science Country Directors. Today we meet Dr Thibaud Freyd who is starting Pint of Science Norway as a new country in 2020.
1. What's your background, who are you?
I am French and I live in Oslo. I fell in love with Norway during an Erasmus exchange and I came back in the arctic circle for a PhD where I was using computational methods to find new medicines. To sum up, I am a geeky biologist now moving to the field of data science.
2. How did you hear about Pint of Science and what made you decide that you needed to bring this to your country / run this nationally?
I think I heard about Pint of Science for the first time in the middle of my PhD when I was looking at the different options available to do science communication.
With a friend, we noticed the popularity Pint of Science was gaining worldwide and we told ourselves " if we don't it now, someone else will! ". Then we decided to join the Pint of Science's family in October 2019 because it is really reassuring to know that someone has your back: if we have any questions or are in need of guidance we can always ask Élodie or the other countries which have much more experience.
3. What has been the biggest challenge you've faced in Pint of Science?
There are a lot of difficulties when something is built from scratch, but I would say that the biggest challenge was to create the initial momentum for Pint of Science Norway (get the word out, recruit volunteers …). After it is the domino effect, everything happens at the same time and it gets hard to manage everything!
4. Tell us about a Pint of Science event or experience that really moved you and why?
I remember clearly to have been moved when I saw the first volunteers showing their interest to contribute! It is scary to start something new alone, and especially in a foreign country, but what the feeling when you realise you are not alone and that the festival might truly happen!
5. What's your favourite science subject and which drink would you pair it with?
This is a tricky question! Right now I would go for the field of data science and its potential applications but I also have a crush for interdisciplinary subjects related to chemistry and physics. Maybe because I still do not understand them completely… There is so much to learn in Science, it is impossible to get bored.
I think a glass of old rum would do the trick but I will have to confirm that in May after my first Pint of Science festival.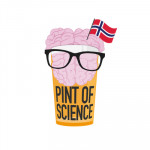 Pint of Science Norway can be found at pintofscienceno.com