In our 5 questions series we talk to the people who run Pint of Science in different countries. Today we meet Marcus Giron who directs Pint of Science US.
1. What's your background, who are you?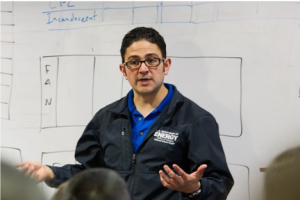 I'm Marcus Giron, from Colorado USA! Right now, I work at the National Renewable Energy Laboratory (NREL) as an Intern Program Manager, trying to inspire the next generation of scientists to work in renewable energy. My background is in education. I taught maths for many years before starting work at NREL. I really love teaching and being in front of a class or crowd. I have a Master's Degree in Science Education and I am in my last year for another master's in Science Communication and Public Engagement from the University of Edinburgh. Like I said, I love engaging with people! I have three kids, two dogs, and one girlfriend and I like to spend my time reading and exercising. I also love playing board games.
2. How did you hear about Pint of Science and what made you decide that you needed to bring this to your country / run this nationally?
I heard about Pint of Science through my master's studies during one of the classes and was immediately intrigued. I signed up to be a local organiser in Denver and then had the opportunity to take over the national director position when the previous director left. I think everyone should hear more science and so I want to make the US event dates the biggest in the world!
3. What has been the biggest challenge you've faced in Pint of Science?
Time, mostly. At least. Before COVID. My kids, job, and degree keep me from devoting a significant portion of time to the event. I am in the process of getting more help and that should allow me to really make the event bigger!
4. Tell us about a Pint of Science event or experience that really moved you and why?
The most moving Pint of Science event, for me, happened just this summer when I was asked to join the Belgium "Couch of Science" event. As I was preparing my talk and delivering it I realised I was impacting people all over the world and that amazed me. I'm not a scientist but a science communicator and given this awesome opportunity to speak to people everywhere really affected me. I was also moved by a recent Pint of Science event, run by the UK on race and science. I felt very educated and aware of more issues in race after the event.
5. What's your favourite science subject and which drink would you pair it with?
My favourite science subject is chemistry and I would pair that with a nice, cold IPA beer! Last year, we held our local event in a real brewery, steps away from the fermentation tanks and the owners/brewers took us around and explained a lot of the chemistry regarding beer and I was fascinated!
Bonus question: what do you do in your free time?
I love to read! Mostly non-fiction. I also like to play board games, run and hike!
Pint of Science US can be found at pintofscience.us