In our 5 questions series we talk to our Pint of Science Country Directors. Today we meet Dr Laura Veldenz and Dr Daniel Méndez Fernández who run Pint of Science Germany.
1. What's your background, who are you?
Laura: My name is Laura, I am a German national but live in the Netherlands. I've studied technical textiles and material science, and then completed my doctorate in composites manufacturing in the UK.
I now work full time in the aerospace industry (fibres + resin = aircraft components). I'm not in academia, but I still feel strongly about sharing science to everyone, because even rocket science is not difficult if broken down.
What I do at the moment is best said in Gracie Fields' words: I'm the girl that makes the thing that drills the hole that holds the ring that drives the rod that turns the knob that works the thingy a me-bob. But really, I'm just the person who writes the offers for the thing that drills the hole that holds the ring that drives the rod that turns the knob that works the thingy a me-bob (Source).
Daniel: My name is Daniel, I was born in Northern Spain, but I grew up in Germany (Bavaria). I am essentially a Spaniard who knows how to read a watch. I studied Computer Science and Cognitive Neuroscience at the Ludwig-Maximilians University in Munich before doing my PhD and habilitation at the Technical University of Munich. My field is Empirical Software Engineering.
I essentially study software engineering practices and am particularly interested in knowing what problems practitioners experience and what we can learn from it to improve the development of software systems.
Today, I have two positions: My main affiliation is in the beautiful south of Sweden where I am professor for Software Engineering at the Blekinge Institute of Technology. Next to that, I working at the fortiss research and transfer institute in Munich where I am building up a small group of engaged researchers particularly engaged in technology and knowledge transfer between academia and industry.
Knowledge transfer is something I found always fascinating next to public outreach and open science. I am very engaged into these topics as I am fundamentally convinced that research and education should be easily accessible to anyone to ensure a socially sustainable growth of our society.
2. How did you hear about Pint of Science and what made you decide that you needed to bring this to your country / run this nationally?
Laura: I started as an event manager in Bristol, where I volunteered to meet new people in a new city. I then ended up leading the Bristol events for a couple of years, which was a great experience and I became friends with awesome people. When I thought I've had enough and should focus on my doctorate, the opportunity to build a central organisation in Germany, I couldn't resist to take on the challenge. Together with Daniel we make a great central team and have been driving the expansion of Pint of Science Germany, doubling every year.
Daniel: I actually discovered Pint of Science years ago via Twitter and observed all the social media noise surrounding the events in the UK. I knew immediately that this is something we would also need in Germany, not only because our beer is obviously far better.
After some initial exchanges with Michael Motskin, I then teamed up with Christoffer Wolters who was organizing an event in Berlin and had started the very first Pint of Science in Germany and was also in touch with Michael. Christoffer and I then ran Pint of Science both in Berlin and in Munich and it was pure fun.
After co-organizing the events in Munich two times in a row, it became quickly clear what the potential of Pint of Science is to other cities as well and that we would need to scale it up. This was when I met Laura who was up to then responsible for the events in Bristol, UK, and together with whom I then have established the central organization.
We started rather small including the cities from previous years, but we are expanding very fast. Needless to say, all this wouldn't be possible without the tremendous support and engagement by all other great minds carrying out the idea of Pint of Science within the central organization and within all cities involved. They are the ones bringing life to Pint of Science Germany I am indeed very thankful to be working with each of them.
3. What has been the biggest challenge you've faced in Pint of Science?
Laura: There are many challenges, probably the biggest challenges are around finances, which is probably the most boring but an important topic. I find that people underestimate the cost of lots of things in putting on the events, and it has been a huge learning curve to communicate our finances with the teams. Many challenges can be solved with good communication, which is learning I've been able to take into my working life.
Daniel: Having my background at a technical university, I am naturally always concerned with proper project organization and planning… Structure is everything and it is really important that everyone is on board and shares the same understanding of the importance of rules, especially for a community growing so fast, but at the same time without overdoing it (Pint of Science should be about fun in the first place).
One of the biggest challenges, in my personal view, was the question how we could create an organizational umbrella over the activities of a community of volunteers that is growing that fast. We decided to register as a non-profit association which makes many organizational things easier, e.g. financial support.
What I hadn't expect was how ridiculously complicated the underlying process would turn out to be. If you want to truly understand the core of German society, try founding an non-profit association. But in the end, we were successful and as a by-product, we even got a nice blueprint for a Monty Python sketch.
4. Tell us about a Pint of Science event or experience that really moved you and why?
Laura: The most moving event was about sudden infant death syndrome. It's not an easy topic to talk about, and the tickets didn't sell well, so I convinced some friends to attend the event. I learned that the doctor who found out that babies are less likely to die a cot death when they lay on their back is a Professor at Bristol University. I don't think it is possible to estimate how many deaths he's prevented, and I'm honoured that I've met such an unsung hero.
When it comes to experiences, it always astonishes me how amazing our volunteers are! Particularly great is when people move across the world and are still part of Pint of Science, it's a big family and there are always fellow volunteers to connect with!
Daniel: In all honesty, I find all events moving, simply because you can feel the dedication of the volunteers and the speakers in creating an inclusive atmosphere and in making each evening a remarkable experience for everyone. One thing I find particularly moving is the community of volunteers world-wide. It is very easy to connect to each other and meeting with them always feels like a family reunion, but without all the fighting.
I have one particularly memorable experience during the time I was applying for professorships at different European universities. This is a slightly delicate topic, but in essence: I had been invited to give a talk at a university and during the following public hearings one of the evaluation board members - a professor from the UK - looked at me and said: "Wait a second, I just spotted in your CV that you are engaged in Pint of Science? I was an invited speaker in London some years ago!"
What followed was an open exchange about our positive experiences and perspectives on Pint of Science. We ended up hijacking the formal 30 minute-long hearing for a 10 minute-long private conversation about Pint of Science which nobody in the lecture hall except the two of us probably enjoyed.
5. What's your favourite science subject and which drink would you pair it with?
Laura: For my own research, my favourite topic is engineering and applied sciences. I love to see research coming to life and becoming useful and usable. That's when it makes life better for someone or many, and that's my goal. I'll have a G&T with that, thank you
Daniel: My favourite topic relates to software engineering and is "Requirements Engineering", i.e. early stages of software development where everything is about communicating and understanding which engineering problems to solve. My favourite drink is cider from Northern Spain, in particular Asturian sidra. I have no idea how I could ever pair Pint of Science with sidra, because pouring a glass tends to be a rather messy business, but I should probably visit a Pint of Science event in Spain one day to see it… Should event managers from Asturias read this, feel free to invite me to join an event
Bonus question: what do you do in your free time?
Laura: I love sewing, I play the harp and I'm active in two professional bodies to promote engineering, but only when I'm not busy with Pint of Science.
Daniel: I love scuba diving, in particular diving old shipwrecks. Unfortunately, it was always rather difficult for me to allocate time to it but having the Baltic sea so close now will hopefully change that soon (when the water temperature becomes tolerable which tends to be during the second weekend on August).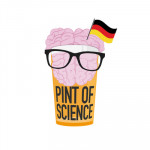 Pint of Science Germany can be found at pintofscience.de