In our 5 questions series we talk to our Pint of Science Country Directors. Today we meet Jirana Boontanjai and Dr Tom Carruthers who have run Pint of Science Australia since 2017.
1. What's your background, who are you?
Tom: I'm a scientist, communicator and creative. During business hours you'll find me at the Australian Academy of Science where I'm the digital strategist. If you haven't seen our social media pages, you should check it out and give it a like and follow! Prior to this, I completed a PhD in Chemistry and a Masters in Science Communication Outreach. I enjoy doing creative things such as music where I dabble in most instruments and am always keen for a jam. I'm most familiar with double bass and trombone but get me to harmonize or hand me a guitar, piano, cello or any other brass instrument and I'll give it a go! I enjoy a good challenge and am meticulous with my work.
Jirana: I'm also a scientist, communicator and creative, but a little bit different! I have a Double Science degree in Zoology and honours in Microbiology. I've got a Master of Science Communication Outreach and during business hours I work at Questacon, the National Science and Technology Centre, where my main role is to encourage students to innovate. My creative side includes making jewellery, but this is more just for fun. I have a passion for event and festival organising, and you'll often see me attending events just to steal ideas and feel the vibe of what customers like.
2. How did you hear about Pint of Science and what made you decide that you needed to bring this to your country / run this nationally?
Jirana: I saw a post on Facebook from a Pint of Science volunteer who at the time was looking for volunteers to help organise the festival. I said yes, then ended up moving cities, helped out in the new city and then found myself addicted to making the festival better and better each year. I then roped in Tom to help organise all of Australia as I knew we could do it together, and we both had such great ideas for what we wanted the festival to become and all the ways we could improve it and make it more sustainable. We saw the skills that our volunteers and speakers were gaining and wanted to ensure that this continued so that Pint of Science could be used as a training ground for an area of science communication.
Tom: I actually heard about Pint of Science through Jirana! She was volunteering in the first year it came to our city and I realised that I wanted to get involved and build up my team management skills. We decided that we wanted to run all of Australia as we saw potential for growth within Pint of Science and to take it to that next level.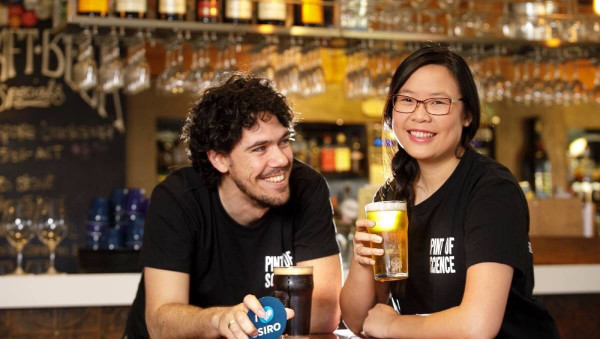 3. What has been the biggest challenge you've faced in Pint of Science?
Jirana: For me, working with volunteers from so many different backgrounds and experiences. It's great, but I always forget that not everyone is like me when it comes to completing tasks and not everyone has the same issues and we don't all have the same vision or opinions.
Tom: Finding enough time to do all the things I want and envision for Pint of Science AND fit in all of my other interests!
4. Tell us about a Pint of Science event or experience that really moved you and why?
Tom: One year we had decided to run science communication workshops for the speakers in our city. We had a great attendance and all of the speakers were soaking up what we had to offer. When it came to the event, I was not prepared for the amount of information they had retained from our session and were implementing into their presentation. One speaker was actively identifying when they had made a mistake in their inclusive language and rephrasing things to be more accessible to the audience. They were also thinking about how they were holding the microphone and themselves in front of the audience. It was so great and I felt a bit of a proud parent moment as I watched someone who I had nurtured present such a wonderful presentation.
Jirana: I once had a volunteer who wanted to know more about the world of media, they had some skills but wanted to develop them further so I had her helping us create press releases. In previous conversations, we had a discussion about the mission of Pint of Science and what myself and Tom felt were the key messages we wanted the public to know about our organisation and what we do. I thought we had overloaded her with information and surely she would have forgotten it all. However, when it came time to make our press releases, she had hit all the key points we had discussed and I could tell it was her words and not a paraphrase of what we had told her. It was so lovely to see someone who came into the role with little knowledge of our national mission to then be able to articulate the key messages so clearly and it just felt so nice to have someone else out there who understood what we were doing.
5. What's your favourite science subject and which drink would you pair it with?
Tom: Protein chemistry and I'd pair it with a Stout.
Jirana: Ethology! The study of animal behaviour! Paired with a fruity Mocktail.
Bonus question: what do you do in your free time?
Tom: I play music! Double Bass, Trombone, Trumpet, Electric Bass, Guitar, Piano, Sing, Recorder, all the things! I also enjoy dancing, hanging out with friends, coming up with wacky musical instruments, creating shows and am a coffee snob.
Jirana: I make jewellery out of resin for friends, dabble in piano and guitar, play video games if I get the chance, do more Pint of Science work, attend food and craft festivals and play badminton! I'm also mildly addicted to binge watching Netflix shows.
Pint of Science Australia can be found at pintofscience.com.au