In our 5 questions series we talk to our Pint of Science Country Directors. Today we meet Dr Victoria Moiseeva and Irina Moiseeva who run Pint of Science Russia.
1. What's your background, who are you?
Victoria: I am a neurophysiologist, PhD. I graduated from Moscow State University and worked there for many years. Now, with like-minded colleagues, I work at the Institute for Cognitive Neuroscience at the Higher School of Economics. Of course, I like science and scientists.
Irina: I studied political psychology at Moscow State University and conducted research in the field of political events and institution perception. Now I lead an advertising studio and actively organise festivals.
2. How did you hear about Pint of Science and what made you decide that you needed to bring this to your country / run this nationally?
Victoria: We heard about Pint of Science from our colleagues and friends from UCL (London, UK). In June 2016 we met during lunch with our friend Ivan Pavlov in London, he introduced us to Elodie Chabrol. Elodie was talking about the festival with such enthusiasm that the idea seemed us very interesting and we wanted to try it in Russia.
Many colleagues are so passionate about their work and conduct interesting studies. We thought that if that passion and information about Russian scientists' research could spread beyond the academic environment and could be accessible for a wider and interested audience – that will be great. Especially with a pint of beer in an informal atmosphere.
Irina: Victoria shared with me that idea. We've just finished the Festival of the World ideas for "Across the World" magazine with the lectures of the world science stars and Nobel prize winners, and we wanted to continue developing the direction of scientific communication. There are very few similar events, media and projects in Russia, and we think that this area is very promising.
3. What has been the biggest challenge you've faced in Pint of Science?
Victoria: The whole Russia Pint of Science team are volunteers. We want to organize the festival well and therefore the biggest problem is lack of time.
Irina: The principle of a volunteer organization is a very new management scheme for Russia. It is realized mostly in charity projects. At the first stage it was difficult to find like-minded people that would love the festival. And a separate topic related to this is the degree of responsibility with which volunteers approach work.
4. Tell us about a Pint of Science event or experience that really moved you and why?
Victoria: I have a classmate, also a biologist, who has become a real astronaut and even a captain of a spaceship crew. We managed to organize his talk at Pint of Science. It was amazing how many people are interested in this topic. Tickets were sold in 1.5 hours, students came from different cities. It felt like a meeting with a movie star! After the talk there was a line of fans wanted to take pictures with their idol. It was very touching.
Irina: I was very pleased when my own faculty supported us. Now every year we have a whole "philosophical café" with a separate program. And the most exciting thing was to organize the event for my science tutor. I was super worried and wanted everything to go perfectly.
5. What's your favourite science subject and which drink would you pair it with?
Victoria: Just for myself I'm mostly interested in history, I read a lot about it, listen to radio programs. For some reason, it is still very hard to organize talks from historians during the festival. Probably because there are few personal contacts in this environment. But I do not lose the hope!
Irina: I like talks when scientists from different fields rise the same topic and an interesting discussion arises. At the first Pint of Science, a neurophysiologist and philosopher talked about different aspects of consciousness, we finished the debate closer to midnight. And the beer added perfectly to the discussion.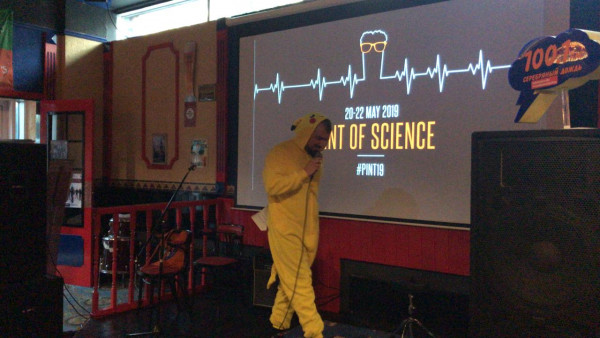 Bonus question: what do you do in your free time?
Victoria: The best pleaser for me – to lay with some nice novel on the couch, but better on the seaside of course. I love travelling, theatre, opera, movies, but not online, I prefer offline. I love my friends, my family and my cat.
Irina: Everything that is forbidden now [with the pandemic] – movies, theatres, museums, bars with friends, travelling and tennis on a fresh air.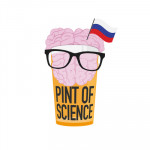 Pint of Science Russia can be found at pintofscience.ru