In our 5 questions series we talk to our Pint of Science Country Directors. Today we meet Floriane Louboutin who runs Pint of Science Hungary which is joining as a new country in 2020.
1. What's your background, who are you?
I am French and have a bachelor's degree in biology & physiology and a master in neurosciences. It allowed me to study in Canada and Australia in addition to France. I then worked for a few years as an engineer in a research center. I then decided to go back to school and I am currently studying veterinary medicine in Budapest.
2. How did you hear about Pint of Science and what made you decide that you needed to bring this to your country / run this nationally?
In 2014 I participated in the French Pint of Science in Bordeaux. This idea of sharing knowledge in a friendly environment pleased me from the beginning. Indeed the researchers were much more accessible and science was much easier to demystify. Since then I have been involved in this event either as a member of the public or as a manager.
When I arrived in Budapest in 2018 I was looking to contribute to this concept again. As it didn't exist yet, I just decided to set it up in this country and start this wonderful adventure!
3. What has been the biggest challenge you've faced in Pint of Science?
Right now, the biggest challenge for me is to understand how to legally set up a festival. Doing it in your own country is one thing, but bringing it into a foreign country is another. In any case, I love what I do. Indeed, in addition to learning day by day in areas that I don't know (public law, creating an association, etc.), I meet new people from different backgrounds which is even more conducive to increasing the network.
4. Tell us about a Pint of Science event or experience that really moved you and why?
Once people fall into the whirlwind of "Pint of Science", they feel concerned and involved in their mission to share research. That is why they are more daring to seek out speakers whom, without this concept, they would never have had the chance to meet or to talk to. Such as literary radio hosts, writers of scientific journals, etc.
So for me "Pint of Science" is more than a simple festival because it brings people together, from different nationalities and backgrounds, simultaneously in more than 25 countries across 5 continents. This is what can be moving in a way, because this event makes people vibrate around common subjects and spreading this representation to its fullest.
5. What's your favourite science subject and which drink would you pair it with?
My two favorite subjects are linked with my studies which are neurosciences and zoology. I could pair them with four different drinks depending on the mood: Gin and tonic, beer, Pina Colada and red wine.
Bonus question: what do you do in your free time?
During my free time I am playing rugby, meeting my friends, cooking, improving my Spanish level and especially enjoying life :)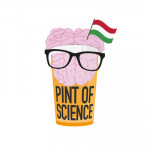 Pint of Science Hungary can be found at pintofsciencehu.com