In our 5 questions series we talk to our Pint of Science Country Directors. Today we meet Dr Beatriz Gil Pulido and Dr Benjamin Cochain who run Pint of Science Ireland.
1. What's your background, who are you?
Bea: I'm a Ph.D. graduate in the field of microbiology with environmental and biotechnological academic training. I graduated in Environmental Science at University of Granada, Spain, and I worked mainly as a researcher in the area of environmental microbiology until I decided to move to Ireland back in 2014. That was a tough decision at that time but I'm so glad that I did it. I feel like at home here in Ireland though I will never adapt to the rainy days and long winters! I'm from the south of Spain so ...very different!
Ben: I'm a Physics secondary school teacher in Ireland and dormant Earth Scientist. I grew up in France where I obtained my PhD studying the atomic structure of molten lava. After touring the world looking at various volcanoes I settled in Cork where I enjoy the brilliant Irish quality of life.
2. How did you hear about Pint of Science and what made you decide that you needed to bring this to your country / run this nationally?
Bea: My brother told me about this festival in Germany. In 2018 he suggested that I jump into Pint of Science in Ireland as it could be something I would most probably enjoy. And I do! I'm a social person and really enjoy communication and event organisation. I always try to have some side projects from my daily routine (my Ph.D at that time) so I think it was the perfect time. The idea of being part of an organisation that brings science to the public motivated me to enrol in the organisation. I started as local coordinator With Benjamin in Cork in 2018 with which was a great experience. I made a very good team with Benjamin and so it was a good opportunity to take a step further in Pint of Science Ireland by joining the national team together and becoming Directors. It was a big challenge to take.
Ben: I first attended a Pint of Science event in Peckham in London in 2015 and thought this was a great idea to bring the latest research and a love of enquiry to the local community. I became the Cork organiser when I moved there and took on the directorship the year after. I feel that every individual should have access to the most up-to-date research to be an active citizen and be able to take decisions on vaccination, energy efficiency, etc.
3. What has been the biggest challenge you've faced in Pint of Science?
Bea: To move from local to a national role. That was a big challenge to face because responsibilities and decisions making take a step further and that is not always easy. Also communicating with local coordinators around the country via online channels can be tricky. As the organisation grows (which we have experienced in the last two years) the challenges vary and get bigger.
Ben: Communicating the overarching vision of the festival to remote local teams. It's not easy to work with volunteers when 99% of your interactions are online. Meeting face-to-face would be great to thank volunteers who are essential to Pint of Science. It wouldn't happen without the enormous amount of free time that they give us.
4. Tell us about a Pint of Science event or experience that really moved you and why?
Bea: I'm really impressed with people's commitment towards science communication from both researchers and the public. It's amazing to see how many researchers are willing to communicate science with the public and the effort behind that. Science communication is one of the biggest challenges for researchers and it amazes me to see that sector growing in the last past years.
Ben: I received loads of presents and hugs from local volunteers in Cork during our end of festival party. I really thought I was asking them to do too much work and that they'd be glad to see me go and take other responsibilities! It was the loveliest gesture ever. Pint of Science creates a great community of people
5. What's your favourite science subject and which drink would you pair it with?
Bea: I've never faced such a difficult question! Is it possible to pair a science subject with a drink!? Interesting! And ... why not! No doubts about the science subject ... microbiology. I'm just happy looking under the microscope or inspecting petri dishes in search of bacterial growth! I would pair that with a craft beer (red ale)! I should have practiced that pairing during my thesis dissertation writing.
Ben: My favourite science subject is volcanoes, everything around volcanoes. Depending on my mood, I would pair it with a good pint of pale ale, an espresso martini or a sparkling water with fine bubbles!
Bonus question: what do you do in your free time?
Bea: I enjoy outdoors activities but not if they are mixed with cold and rain! So that makes challenging to go for a hike in Ireland. I am a landscape lover and I need to disconnect from town every once in a while. Travelling is one of my must hobbies and I escape when I have the occasion. Recently, I have started with one of my secret passions ... dancing! I have joined a salsa club in town and it is one of the best days of the week. It was in my to do list for a while that now It can be crossed! Vamos a mover las caderas! On top of that, I am involved in another charity: Cork Nature Network, where I give a hand managing educational projects environmental related. And you will always find a book in my handbag.
Ben: Maker Space/ playing Irish trad music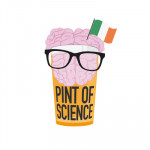 Pint of Science Ireland can be found at pintofscience.ie