In our 5 questions series we talk to our the people who run Pint of Science in different countries. Today we meet Dr Angeline Rouers who is Director of Pint of Science Singapore.
1. What's your background, who are you?
Hi, I'm Angeline director of Pint of Science Singapore. I'm French and did my PhD in Paris where I studied the immune system from patients infected by HIV. I moved to Singapore in 2017 to do a post-doc at the Singapore immunology Network. I'm still there, working on dengue infection and I will start a new project about malaria!
2. How did you hear about Pint of Science and what made you decide that you needed to bring this to your country / run this nationally?
I initially heard about Pint of Science when I was studying in France. In May it was usual to see some posters in our institute to announce the festival. In May 2017 I was contacted to be a speaker! It was a great experience and I really enjoyed being part of it. I moved to Singapore in July 2017 and got in touch with Elodie [International Director and France Director) to know if we can organise this amazing festival in Singapore. In May 2018, we launched the first edition in Singapore with a team of 20 volunteers.
3. What has been the biggest challenge you've faced in Pint of Science?
One of the biggest challenges I didn't think about is that a pub and bar are not the usual places where people gather after work in Singapore. The beer was also kind of issue in a country with a high community of Muslim people. However we adapted to fit in with the culture and find the best place where people go after work. The Hawker Centres turned out to be the places to be! You can find them at each street corner and also in malls. This is where Singaporeans go for their dinner and there are several food and drink stalls gathered at the same place with a common area to seat and share with family and friends. This was part of the festival but we also organized a few events in pubs as the original concept. It's interesting to see the different communities you can attract in the different places.
4. Tell us about a Pint of Science event or experience that really moved you and why?
Last year I had a discussion with one of the participants during an event. She was a professor in Australia spending a few days in Singapore with a friend. She told me that they had registered to one of our events at the very last minute because she had a phone call with a colleague on the same morning who was going to be a speaker at Pint of Science Australia that evening, and that it was sad she could not be there to see it!
Hopefully her colleague mentioned that the festival also happens in Singapore ;) or she looked it up! She was glad she registered and was very impressed by the festival. On my side I was amused by the situation, but also very proud of our international deployment and the very positive feedback from all participants who said that it was a great initiative.
5. What's your favourite science subject and which drink would you pair it with?
I would say the topics about the mind. I'm not in that field at all and I'm always amazed by what the brain can do! I also like everything about new technologies. For any topics I would pair it with a beer of course, I actually improved my knowledge and taste for beer since I've become Director of Pint of Science!
Bonus question: what do you do in your free time?
I like to chill in cafés with something to read. I also like hiking but it is sometimes too hot in Singapore to do it regularly… Netflix is a very good friend to me as well ;)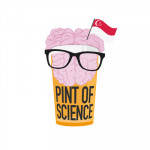 Pint of Science Singapore can be found at pintofscience.sg