In our 5 questions series we talk to our Pint of Science Country Directors. Today we meet Alexandra Gellé and Marie-Pier Dinel who run Pint of Science Canada.
1. What's your background, who are you?
Alex: I am a PhD student in chemistry at McGill University in Montreal, Quebec, Canada. Originally from France, I moved to Montréal for my undergraduate studies and fell in love with French Canadians, winters and maple syrup.
Marie-Pier: I am a young professional who is now working in the private sector. I've completed my master's degree in chemistry at the Université de Montréal in Montréal, Québec, Canada and worked on the development of new biosensors.
2. How did you hear about Pint of Science and what made you decide that you needed to bring this to your country / run this nationally?
Alex: One of my colleagues during my undergraduate studies at Université de Montréal heard about Pint of Science while he was on vacation in France and started Pint of Science Canada in 2016. For two years, I was in charge of the Montréal chapter of the festival and took over the role of Director in 2019. I was always fascinated by science as a kid, and I still am, but I came to realize that there isn't a lot of opportunity for adults to keep learning about science. It was important for me to share my passion, and awaken enthusiasm for science among adults, with ethanol of course.
Marie-Pier: I attended my first Pint of Science event in 2016 during the first edition of Pint of Science Canada. Last year, Alexandra, offered me to become co-director of Pint of Science Canada with her. I couldn't say no to such an interesting project with my undergrad lab partner.
3. What has been the biggest challenge you've faced in Pint of Science?
Alex: Organizing Pint of Science in a country as big as Canada was quite challenging. We had volunteers in 6 times zones and 5000 km apart! Moreover, Canada is a bilingual country so we have to do everything twice to accommodate both French and English speakers.
Marie-Pier: Last minute unforeseen things are the most challenging (and stressful) part of the Pint of Science organization, especially in such a big country as Canada.
4. Tell us about a Pint of Science event or experience that really moved you and why?
Alex: This is too hard to pick a unique moment. In 2019, we had around 150 events in Canada and while I went to only a dozen in Montréal, I felt like I was attending events coast to coast thanks to all the pictures from the other volunteers. I received pictures of smiling and exhausted volunteers who I had never met even though we had been working together for months. Also, seeing bars packed with people of all ages filled my heart with joy even if I was thousands of kilometers away. I really felt like I was travelling across the country each day for 6 hours and meeting a bunch of curious and joyful people from the public.
Marie-Pier: After all the work we have done, seeing the audience enjoying the event is the most rewarding and touching part of organizing Pint of Science.
5. What's your favourite science subject and which drink would you pair it with?
Alex: Molecular cooking (aka chemistry) is my favorite science subject. It goes well with any curaçao-based blue cocktail. Bonus points if it's served in a beaker.
Marie-Pier: Biosensing with new innovative technologies will stay my favorite subject! It is a perfect subject to discuss around a black velvet drink.
Bonus question: what do you do in your free time?
Alex:I am a big winter sport fan! Skiing, ice skating, sledding. Pretty much anything involving frozen H2O. I also enjoy hiking and there are so many places I still have to discover in Canada.
Marie-Pier: After all those years passed to paddle with my friends in dragon boat, I'm now starting a new sport, climbing!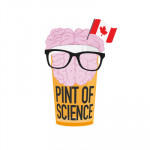 Pint of Science Canada can be found at pintofscience.ca